Session Topics for Continuing Education
Filling the Gap Between Medical Training and Business Training

Whether on-site or via live virtual presentation, our educational sessions are tailored to fill the gap between medical training and business training and provide physicians with practical advice and strategies to help make sound financial, legal and business decisions. Please note that On-Site Sessions are dependent on the availability of our advisors and we typically recommend scheduling at least two months in advance.
Click here to request more information or schedule a presentation.
A summary of each educational session that we provide is outlined below.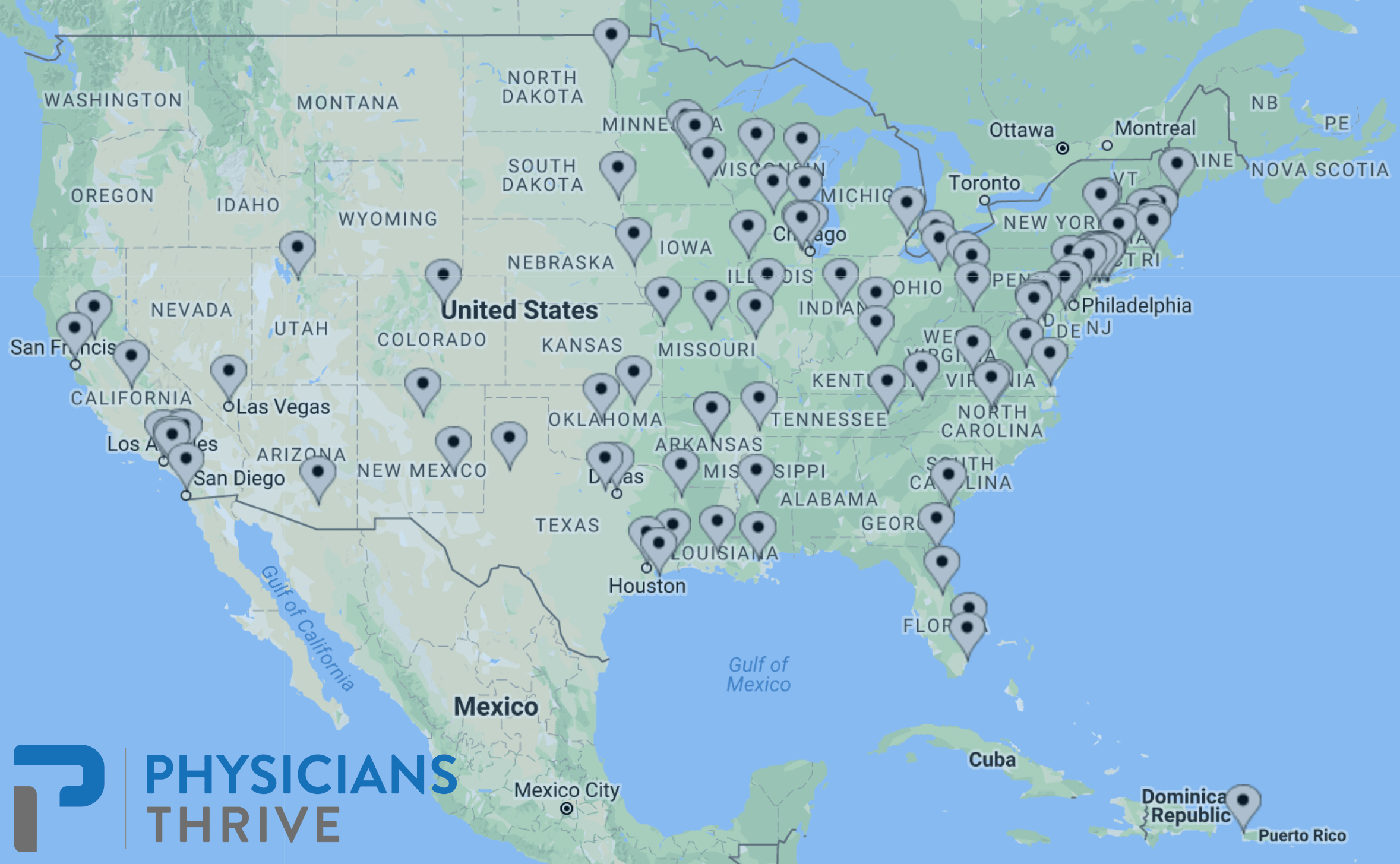 Transitioning from Training to Practice
Transitioning from Training to Practice is Physicians Thrive's flagship presentation which was created to be relevant across all specialties and all physicians at different points in training. The presentation provides an overview of considerations and challenges that all physicians face as they transition from residency or fellowship into practice and how to proactively plan to successfully navigate potential pitfalls.
Includes topics like:
Interview preparation & how to set yourself apart
Contract provisions and pitfalls
Keys to negotiation & how to evaluate the offer
Income protection & financial preparedness
Financial Do's & Don'ts for Physicians in Training

Physicians are on a unique financial journey with many fiscally lean years during training and often a six-figure debt load. This intensely practical session tackles tough financial choices head-on and is ideal for 1st year residents and 3rd year fellows alike.
Includes topics like:
Avoiding the Physician 15: Choices that seem good at the time
How to put your $ to work for you now – IRA's, Employer Match, and 529's
Creating a workable budget and loan management plan
Contract Pitfalls: The Bold Ramifications of the Fine Print
While physicians in their last 3 years of training are especially interested in evaluating contracts, even 1st year residents would greatly benefit from understanding the changing dynamics of physician contracts.  Your physicians will leave this session empowered as they weigh job offers and negotiate terms.
Includes topics like:
Evaluating Job Opportunities
Critical Clauses to Watch For
Negotiating Key Contract Terms
Understanding different compensation methods
Landing THE Job for You in a Networked World

In today's healthcare market, it is never too early to begin thinking about and implementing a plan to land the job you've always wanted. With action steps starting in the 1st year of residency, this session provides practical guidance for THE job search.
Includes Topics like:
How & where you'll find the best jobs
What is your personal brand and why it matters
Beyond the $ – Evaluating your offers
From Residency to Retirement
From Residency to Retirement is our popular comprehensive 4-5 hour workshop in which our advisors cover some of the most important foundational business pieces all physicians must understand to help achieve success in their practice and personal lives. The interactive workshop provides physicians with more in-depth information regarding interview preparation, successful interview techniques, overview of employment contracts for various compensation structures, understanding contract negotiation, common contractual mistakes, income protection strategies, financial planning, tax planning and wealth accumulation.
Session Length: Approximately 4-5 hours
Session Type: Available as On-Site Session only
Tailored, Focused Presentations

If you are interested in having our team provide an educational session on specific medical, legal or financial topics that are relevant to residents and fellows, please contact our team to discuss planning a tailored session for your program.