Top 10 Causes of Long-Term Disability
90% driven by illness, not accidents
The Council for Disability Awareness just released their annual Long Term Disability Claims Review that evaluates claims of the twelve largest disability insurance companies. Over one-third of new claims come from muculoskeletal/connective tissue or cancer and neoplasms diagnoses. Injuries and poisoning are the third largest cause, but only comprise 10% of new claims.
Of interest to women, females submitted 56% of new claims in 2014 and 6% of all new claims were attributed to complications of pregnancy and childbirth.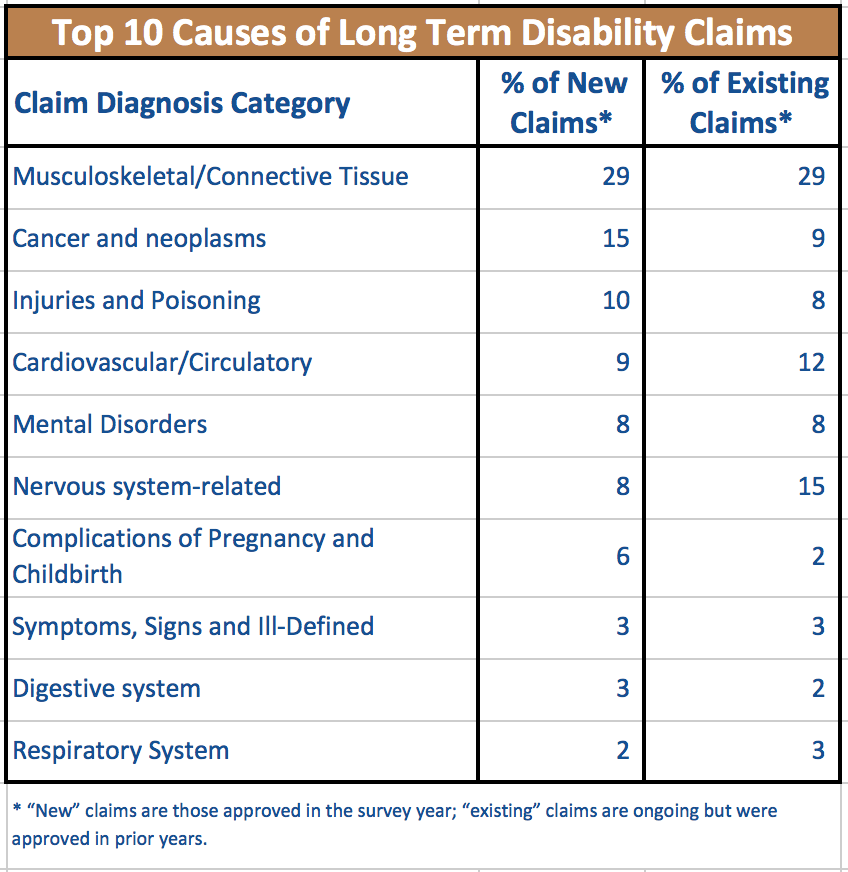 Now what should you do before enrolling in long term disability insurance?
1) Find an advisor who can coach you how to evaluate options. This should be an advisor who does not work for an insurance company and does not get the majority of their compensation from any particular insurance company. You can find this out by simply asking what percentage of their income comes from the company they are recommending.
2) Review long term disability insurance quotes from all of the own occupation policies that exist. As of the recording of this podcast, that would be Ameritas, Guardian, MassMutual, MetLife, Principal, and Standard. You may be wondering why Northwestern Mutual was not listed and that's because their policy specifically requires that a doctor has to NOT be working in order to collect full disability benefits while the other six I've mentioned all do have the true own occupation definition of disability.
3) Make sure the quotes you are reviewing are an apples to apples comparison. Each policy is built with its core benefits and it can have additional features called riders. One of the ways we find that doctors are misled is that policy designs are not compared on an even playing field.
4) Before signing up, investigate the nuances of the contracts to find any limitations that are not highlighted. For example, some plans have hoops you have to jump through in order to maintain the policy and if you don't keep up with them, the policy can change for the worse.
5) Take advantage of the privilege of your status because while you are in training you have two unique advantages. 1) You can get discounted rates that are guaranteed for the life of the policy and 2) you can use the starting practice limits to access a higher level of protection in some cases than what you would otherwise be able to get after joining your first practice. The reason why this occurs is because the employer's group long term disability insurance package prevents you from getting a higher level of protection, but if you use the starting practice limits you can ignore this offset
Other useful disability insurance resources include:
Benefit
Number of Employment Opportunities reviewed
Unlimited consultations with Financial Advisor
Unlimited consultations with Attorney
Analysis of Compensation & Benefits Package
Includes related MGMA data
Includes related data from Physicians Thrive proprietary database
Includes coaching for negotiation, or attorney will negotiate on your behalf
Turnaround time
Single
1
Yes
Yes
Yes
Yes
Yes
Yes
2-3 days
Multiple
2+
Yes
Yes
Yes
Yes
Yes
Yes
2-3 days
Request a Review
The contract review process includes a Financial advisor who specializes in health-care industry. S/he analyzes the compensation & benefits, provides advice on financial aspects of the opportunity, researches industry standards along with MGMA's and Physicians Thrive' own databases (taking into account your experience, specialty and geographical region), discusses findings with physician, and has unlimited availability during the negotiation process.
You will be assigned to an Attorney who specializes in health-care law. The attorney reviews legal documents, coaches physician for negotiation or if desired, directly negotiates with the employer, and has unlimited availability during negotiation process.
The average turn-around time is 2-3 days. Once your contract has been signed, you will continue to have unlimited access to both the Financial Advisor and the Attorney throughout the contract term for any contract maintenance issues.
Let's get your questions answered.
Work With Physicians Thrive